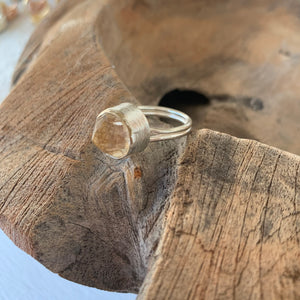 Yellow Topaz Ring in Silver
A Symbol of Harmony and Balance. Many believe yellow topaz to be a jewel that represents empathy and serenity. This is related to the symbolism of the brown and gold colors relating to the family and the home. The topaz can be a soothing stone and a promoter of harmony.

This setting is 13mm.
The base material of the ring is brass, and is specially plated with Sterling Silver.
This ring is adjustable from size 5 to 11.
All rings are designed and handmade by Rana Nader Yoga Jewelry.