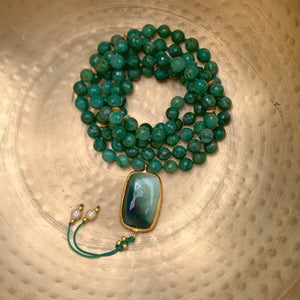 Verdite Mala with Imperial Jasper Guru Bead
Verdite brings consistency, stability, and fortitude.
Natural Imperial Jasper is known as a good stone to help one get organized, relax, and reach tranquility.
Designed and hand-knotted by Rana Nader. Vegan thread, all-natural stones and lead-free spacers are used to create these original Malas that are unique to Rana Nader Yoga Jewelry.