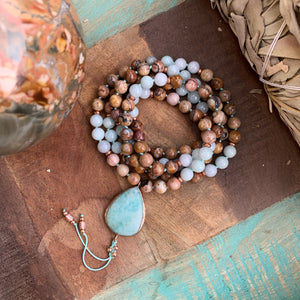 Venus Jasper & Burma Jade Mala with Amazonite Guru Bead
Venus Jasper is named after the planet Venus, which was named for the Roman goddess of love and beauty. Venus Jasper the Supreme Nurturer and helps to bring out the goddess within you. 
Burma Jadeite Stimulating its owner's independence. it is a gemstone for you to think and act by yourself, it would prevent you from getting controlled by false information and direction. it's also filled with positive energy and it attracts luck.


Amazonite is used for emotional balance. It's also the color of the ocean and the sand, which creates a great feeling of calmness.
Designed and hand-knotted by Rana Nader. Vegan thread, all-natural stones and lead-free spacers are used to create this original Mala that is unique to Rana Nader Yoga Jewelry.