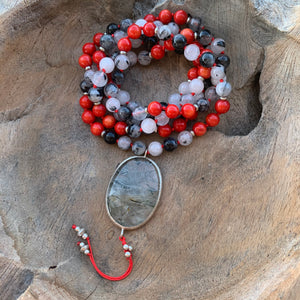 Tourmalinated Quartz and Mediterranean Coral One of a Kind Mala with Tourmalinated Quartz Guru Bead
Tourmalinated Quartz includes the extreme protective properties of Tourmaline, as well as the clarity, consciousness and energy amplification qualities of Clear Quartz.
Mediterranean Red Coral helps to connect you with your roots and Mother Earth, and is very grounding.

Designed and hand-knotted by Rana Nader. Vegan thread, all-natural stones and lead-free spacers are used to create these original Malas that are unique to Rana Nader Yoga Jewelry.