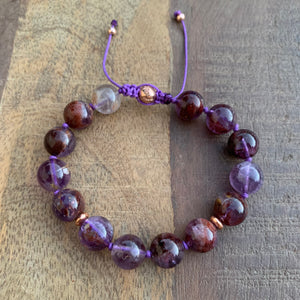 Super Seven Adjustable Beaded Bracelet
Super Seven, also known as Melody Stone or Sacred Stone, is an extremely rare mineral with seven crystals in one. The crystals are Amethyst, Cacoxenite, Goethite, Lepidocrocite, Rutitaled Quartz, Smokey Quartz , and Clear Quartz. This special crystal helps bringing you protection, release of negative emotions and past patterns, and purification of your soul, allowing you to reach a place of clarity, focus, creativity, and positivity.
This beaded bracelet is adjustable.
Designed and hand-knotted by Rana Nader. Vegan thread, all-natural stones and lead-free spacers are used to create this original beaded bracelet that is unique to Rana Nader Yoga Jewelry.