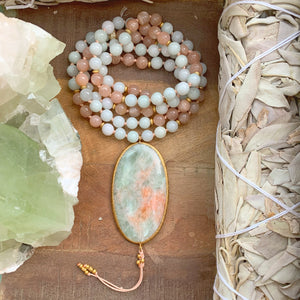 Sunstone & Burma Jade Mala with Apophyllite & Stilbite Guru Bead
Burma Jadeite Stimulating its owner's independence. it is a gemstone for you to think and act by yourself, it would prevent you from getting controlled by false information and direction. it's also filled with positive energy and it attracts luck.
Apophyllite can help one to plan for the future with certainty, despite any negative past experiences.  
Stilbite is a highly creative stone that opens the intuition and carries a loving and supportive vibration in any journey.
Designed and hand-knotted by Rana Nader. Vegan thread, all-natural stones and lead-free spacers are used to create this original Mala that is unique to Rana Nader Yoga Jewelry.