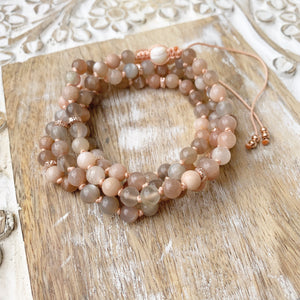 Sunstone Adjustable Mala with White Shells Guru Bead
Sunstone allows the   self to shine through happily, and helps you to explore your authentic self. It dissipates fearfulness, alleviates stress and increases vitality. It also encourages independence and originality.
White Shells are for new beginnings.
This is an adjustable mala using 4mm beads, and can be worn either as a necklace or as a bracelet, and is designed to fit both men's and women's wrist sizes perfectly.
Designed and hand-knotted by Rana Nader. Vegan thread, all-natural stones and lead-free spacers are used to create this original Mala that is unique to Rana Nader Yoga Jewelry