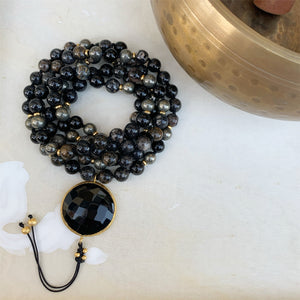 Star Jasper, Black Onyx and Pyrite Mala with Black Onyx Guru Bead
Star Jasper, or Fossil, connects you with Mother Earth, and helps you ground down and feel connected.
Black Onyx is used for protection and balancing the Root chakra to feel safe and strong.
Pyrite is a symbol   abundance, prosperity and good luck. Gaze upon this stone and remember your intention and its powerful healing properties. 
Designed and hand-knotted by Rana Nader. Vegan thread, all-natural stones and lead-free spacers are used to create this original Mala that is unique to Rana Nader Yoga Jewelry.