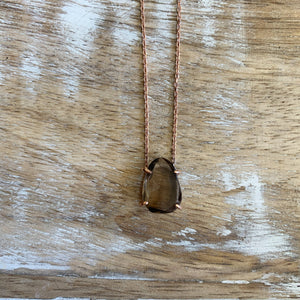 Silver- Smokey Quartz Dainty Sterling Silver Necklace in Rose Gold
These Necklaces are made from sterling silver and plated in 22kt gold. They don't cause any allergic reaction on the skin and do not fade easily.
Smoky Quartz is for balancing mood swings and is also very grounding.

The Smokey Quartz Crystal is approximately 0.5 inch , 1.2cm.
Necklaces are 16" long.