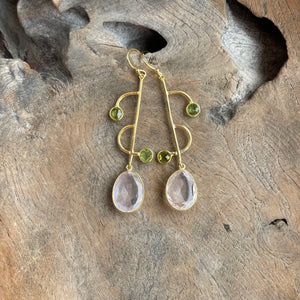 Silver - Peridot, Rose Quartz Earrings
Peridot Known as the stone of compassion, peridot is believed to bring good health, restful sleep and peace to relationships by balancing emotions and mind.
Rose Quartz is the stone of inviting more love, though it's not just romantic love that Rose Quartz embodies. It facilitates love entering your life by bringing your consciousness to a higher level.

Citrine is the crystal of success. It is a stone of manifestation, helping to manifest individuality, creativity and self-expression, and helps with mental concentration.

The base metal used in these earrings is sterling silver. You also have the option of Rose Gold or Gold plated sterling silver.