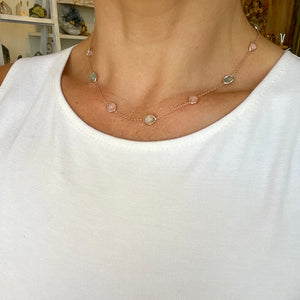 Silver- Morganite and Aquamarine Sterling Silver Necklace
Morganite is the stone of kindness and compassion. It reminds you to always be kind and calm, even in moments of chaos, no matter whether it's towards yourself or others.
Aquamarine is the strongest crystal of health and healing. It can also can invoke tolerance of others and help overcome judgmentalism, as well as give support to those overwhelmed by responsibility.

These Necklaces are made from sterling silver and plated in 22kt gold. They don't cause any allergic reaction on the skin and do not fade.
Necklaces are 16" long adjustable to 17"