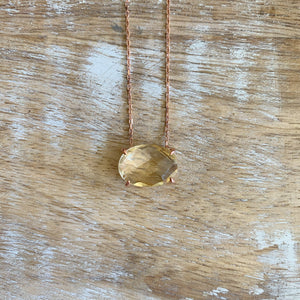 Silver- Citrine Dainty Sterling Silver Necklace in Rose Gold
These Necklaces are made from sterling silver and plated in 22kt gold. They don't cause any allergic reaction on the skin and do not fade easily.
Citrine is the crystal of success. It is a stone of manifestation, helping to manifest individuality, creativity and self-expression, and helps with mental concentration.

The Citrine Crystal is approximately 0.5 inch , 1.2cm.
Necklaces are 16" long.