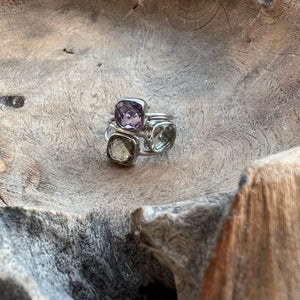 Silver - Aquamarine, Smokey Quartz and Amethyst Ring
Aquamarine is the strongest crystal of health and healing. It can also can invoke tolerance of others and help overcome judgmentalism, as well as give support to those overwhelmed by responsibility.

Amethyst is the crystal of joy and happiness. It clears your third eye center from negativity and helps you to see yourself in a positive place in life, which will help you to be more joyful and happy.

Smoky Quartz is for balancing mood swings and is also very grounding. The Smoky Quartz crystal is a grounding stone known for its ability to help you move on from difficult or painful experiences. It guides you to a higher state of being, a place where you can let go of the past so that it makes you better, not bitter. Leave the past in the past and move on toward a brighter future with the help of the Smoky Quartz crystal properties.
The base metal used in making this piece is Sterling Silver.
This ring is size 6
All rings are designed and handmade by Rana Nader Yoga Jewelry.