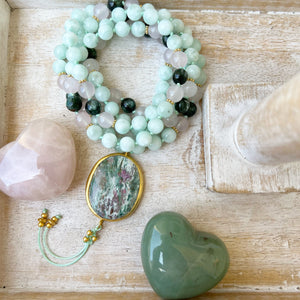 Seraphinite , Green Angelite and Rose Quartz Quartz Mala with Ruby Fuschite Guru Bead
Seraphinite is a stone of self-healing that encourages you to live from your heart.
Green Angelite Wearing this stone is believed to have a calming effect on you and connect you easily to your spirit guides and guardian angels.
It is known to support you in conquering your fears and in removing the blockages in your life.
Rose Quartz is the stone of inviting more love, though it's not just romantic love that Rose Quartz embodies. It facilitates love entering your life by bringing your consciousness to a higher level.
Ruby Fuchsite resonates strongly with the Earth's energies and uses her vibrations to rejuvenate our life force. This stone allows us to "root" back into earth with an open heart that has begun healing and strengthening. You will soon notice how often you begin to speak from your heart, and not from all the toxicity that once surrounded you.

Indian Agate is the stone of self-love.
Designed and hand-knotted by Rana Nader. Vegan thread, all-natural stones and lead-free spacers are used to create these original Malas that are unique to Rana Nader Yoga Jewelry.