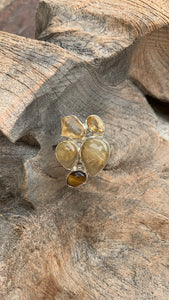 Silver - Rutilated Quartz , Citrine and Tiger's Eye Ring
Rutilated Quartz can give you the power to get through any difficulties that are related to your creativity and career.
Citrine is the crystal of success. It is a stone of manifestation, helping to manifest individuality, creativity and self-expression, and helps with mental concentration.
Tiger's Eye is a stone that can give you courage, strength of mind, and self-confidence to tackle anything that will come your way. It will help you accomplish your goals because your focus and creativity will be greatly enhanced.
The base metal used in making this piece is Sterling Silver.
This ring is size 7 1/2.
This ring is 26mm.
All rings are designed and handmade by Rana Nader Yoga Jewelry.