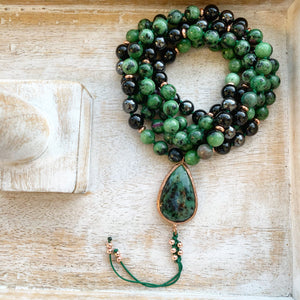 Ruby Zosite, Black Tourmaline and Hematite Mala with Ruby Zoisite Guru Bead
Black Tourmaline is known for its ability to protect and purify. It repels negativity and is said to convert it into positive energy. It is a wonderfully protective stone to wear or carry if you feel the weight of others' emotions around you.
Hematite helps clean and clear you from carrying other people's energy. A perfect crystal for people in touch with others for their work.
Ruby Zoisite fills your heart with the energies of passion and patience to transform negatives into positives. It's the crystal of passion for a better life.
Designed and hand-knotted by Rana Nader. Vegan thread, all-natural stones and lead-free spacers are used to create this original Mala that is unique to Rana Nader Yoga Jewelry.