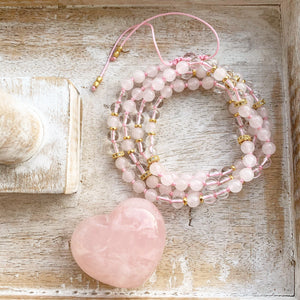 Rose Quartz & Clear Quartz Adjustable Mala
Rose Quartz is the stone of inviting more love, though it's not just romantic love that Rose Quartz embodies. It facilitates love entering your life by bringing your consciousness to a higher level.
Clear Quartz opens your crown chakra and helps you to be more connected with other energies. It allows you to activate self-consciousness and to think beyond just a physical body.
This is an adjustable mala, and can be worn either as a necklace or as a bracelet, and is designed to fit both men's and women's wrist sizes perfectly.
Designed and hand-knotted by Rana Nader. Vegan thread, all-natural stones and lead-free spacers are used to create this original Mala that is unique to Rana Nader Yoga Jewelry.