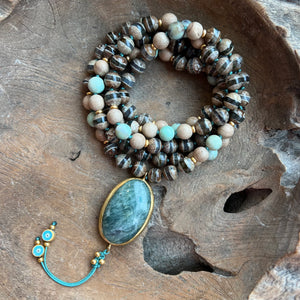 Robin's Egg Agate, Tibetan Agate and Agar Wood Mala with Aquamarine Guru Bead
Robin's Egg Agate the stone of creativity, optimism, & new horizons, gives feeling of light-hearted ness & opens the mind to new ideas; heals perception of self & world.

Agarwood is a special wood from Indonesia that has a very calming and relaxing scent. After wearing it against your skin for a while, you can tell by the strength of the scent if you're relaxed or anxious. It also smells differently on different people's bodies.
Tibetan Agate helps to deepen your meditation and connect with your mantra.
Aquamarine is the strongest crystal of health and healing. It can also can invoke tolerance of others and help overcome judgmentalism, as well as give support to those overwhelmed by responsibility.
Designed and hand-knotted by Rana Nader. Vegan thread, all-natural stones and lead-free spacers are used to create this original Mala that is unique to Rana Nader Yoga Jewelry.