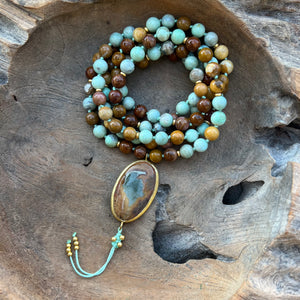 Robin's Egg Agate, Yellow jasper Mala with Venus Jasper Guru Bead
Robin's Egg Agate the stone of creativity, optimism, & new horizons, gives feeling of light-hearted ness & opens the mind to new ideas; heals perception of self & world.
Venus Jasper is named after the planet Venus, which was named for the Roman goddess of love and beauty. Metaphysically, Jasper is a stone of grounding, stability, strength, healing, comfort and security. You can see why some people call Jasper the Supreme Nurturer.
Yellow Jasper is a stone of protection and discernment. It provides inner strength and mental clarity. Yellow Jasper stones are good for protection during spiritual work or physical travel. Yellow Jasper can facilitate positive communication with strangers along the way.
Designed and hand-knotted by Rana Nader. Vegan thread, all-natural stones and lead-free spacers are used to create this original Mala that is unique to Rana Nader Yoga Jewelry.