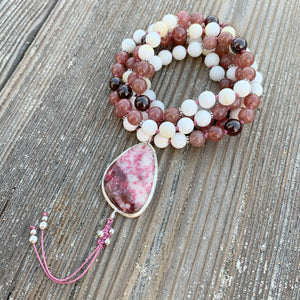 River Jasper, Garnet and Strawberry Quartz Mala with Pink Tourmaline Guru Bead
River Jasper encourages us to go with the flow, smoothly and happily, rather than resist change or evolution.
Strawberry Quartz represents motherhood and loving unconditionally.

Garnet is the stone of protecting relationships, and healing broken relationships and making them stronger. It also helps to strengthen your relationship with your loved ones, and helps you ground down in your relationship and be more understanding and loving.
Pink Tourmaline Providing assurance that is safe to love, it inspires to trust in love, and confirms that is necessary to love yourself before before you can hope to be loved by others. It removes emotional pain.
Designed and hand-knotted by Rana Nader. Vegan thread, all-natural stones and lead-free spacers are used to create these original Malas that are unique to Rana Nader Yoga Jewelry.