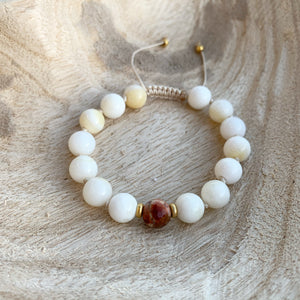 River Jasper and Rhyolite Beaded Bracelet 8mm
Bird's Eye Rhyolite helps you heal from past-life trauma calmly.
River Jasper encourages us to go with the flow, smoothly and happily, rather than resist change or evolution.
This beaded bracelet is adjustable, and made with 8mm beads. 
Designed and hand-knotted by Rana Nader. Vegan thread, all-natural stones and lead-free spacers are used to create these original beaded bracelets that are unique to Rana Nader Yoga Jewelry.