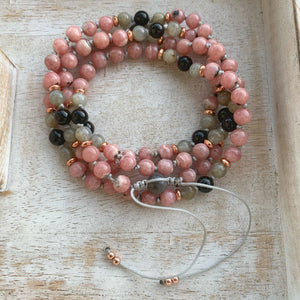 Rhodochrosite, Labradorite and Black Tourmaline Adjustable Mala 6mm
Rhodochrosite is the crystal of trust - to trust the path of love. This loving vibration calms the heart and encourages stability when tensions are high.
Labradorite is a gemstone of magic, and helps those seeking knowledge and guidance to find answers. It is excellent for awakening your life's purpose. Labradorite is a powerful crystal to help you go through change with ease and comfort.
Black Tourmaline is known for its ability to protect and purify. It repels negativity and is said to convert it into positive energy. It is a wonderfully protective stone to wear or carry if you feel the weight of others' emotions around you.
This is an adjustable mala using 6mm beads, and can be worn either as a necklace or as a bracelet, and is designed to fit both men's and women's wrist sizes perfectly.
Designed and hand-knotted by Rana Nader. Vegan thread, all-natural stones and lead-free spacers are used to create this original Mala that is unique to Rana Nader Yoga Jewelry.