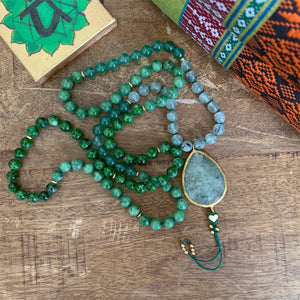 Prehnite, Jade, Siberian Emerald & Aventurine Mala with Prehnite Guru Bead
Prehnite is the crystal of receiving unconditional love from everything around you. It's a great reminder for those who are going through a painful stage in their life to see the love that exists in everything around them. 
Siberian Emerald, or Diopside, is a wonderful healer for those who have held back their tears for too long, helping them to cry and release their feelings. It's a crystal that reduces the heaviness on the heart that is caused by pain or trauma in the past. 
Jade is a magical stone that helps make the impossible possible by putting your heart in what you do. It also brings good fortune. In Chinese culture, when Jade is used with red thread, it brings good fortune.
Green Aventurine is known as the heart comforter. 
This mala is designed and hand-knotted by Rana Nader. Vegan thread, all-natural stones and lead-free spacers are used to create this original Mala that is unique to Rana Nader Yoga Jewelry