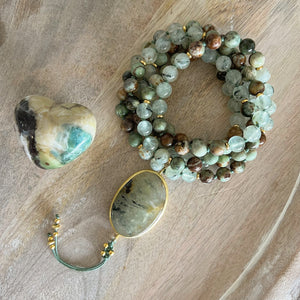 Prehnite & Green Opal Mala with Prehnite Guru Bead
Prehnite is the crystal of receiving unconditional love from everything around you. It's a great reminder for those who are going through a painful stage in their life to see the love that exists in everything around them. 
Green Opal purifies and cleanses the heart, and prepares it for new experiences. It's especially powerful for anyone who has been hurt in love and needs faith to believe.
This mala is designed and hand-knotted by Rana Nader. Vegan thread, all-natural stones and lead-free spacers are used to create this original Mala that is unique to Rana Nader Yoga Jewelry