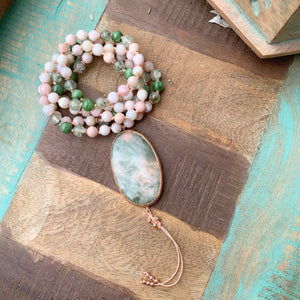 Pink Opal, Prehnite & Jade Mala with Apophyllite & Stilbite Guru Bead
Pink Opal helps you to let go of fear and doubt and bring peace within.
Prehnite is the crystal of receiving unconditional love from everything around you. It's a great reminder for those who are going through a painful stage in their life to see the love that exists in everything around them.
Jade is a magical stone that helps make the impossible possible by putting your heart in what you do. It also brings good fortune. In Chinese culture, when Jade is used with red thread, it brings good fortune.
Apophyllite can help one to plan for the future with certainty, despite any negative past experiences.  
Stilbite is a highly creative stone that opens the intuition and carries a loving and supportive vibration in any journey.
Designed and hand-knotted by Rana Nader. Vegan thread, all-natural stones and lead-free spacers are used to create this original Mala that is unique to Rana Nader Yoga Jewelry.