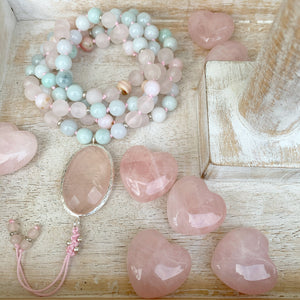 Pink Opal, Burma Jade and Rose Quartz Mala with Rose Quartz Guru Bead
Rose Quartz is the stone of inviting more love, though it's not just romantic love that Rose Quartz embodies. It facilitates love entering your life by bringing your consciousness to a higher level.
Pink Opal helps you to let go of fear and doubt and bring peace within.
Burma Jadeite Stimulating its owner's independence. it is a gemstone for you to think and act by yourself, it would prevent you from getting controlled by false information and direction. it's also filled with positive energy and it attracts luck.
Designed and hand-knotted by Rana Nader. Vegan thread, all-natural stones and lead-free spacers are used to create this original Mala that is unique to Rana Nader Yoga Jewelry.