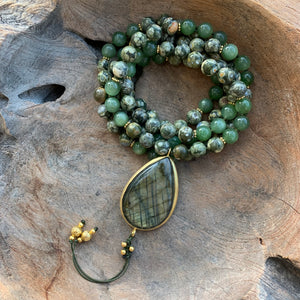 Ocean Jasper and Jade Mala with Labradorite Guru Bead
Ocean Jasper has a deep connection to the ocean, and is known for being a nurturing and protective stone. Ocean Jasper brings comfort by alleviating fear, stress and anxiety.
Jade is a magical that helps make the impossible possible by putting your heart in what you do. It also brings good fortune. In Chinese culture, when Jade is used with red thread, it brings good fortune.
Labradorite is a gemstone of magic, and helps those seeking knowledge and guidance to find answers. It is excellent for awakening your life's purpose. Labradorite is a powerful crystal to help you go through change with ease and comfort.
Designed and hand-knotted by Rana Nader. Vegan thread, all-natural stones and lead-free spacers are used to create these original Malas that are unique to Rana Nader Yoga Jewelry.