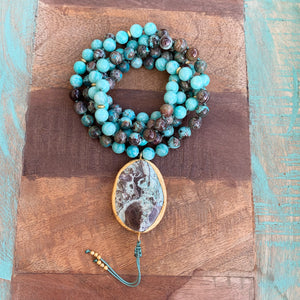 Ocean Jasper and Amazonite Mala with Ocean Jasper Guru Bead
Ocean Jasper has a deep connection to the ocean, and is known for being a nurturing and protective stone. Ocean Jasper brings comfort by alleviating fear, stress and anxiety.
Amazonite is used for emotional balance. It's also the color of the ocean and the sand, which creates a great feeling of calmness.