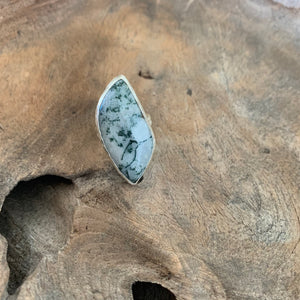 Moss Agate Ring in Silver
Moss Agate carries energies of persistence and endurance, and can boost your optimism. This crystal can also help you release old and unhealthy habits.
This setting is 34mm. 
The base material of the ring is brass, and is specially plated with Sterling Silver.
This ring is adjustable from size 5 to 9.
All rings are designed and handmade by Rana Nader Yoga Jewelry.