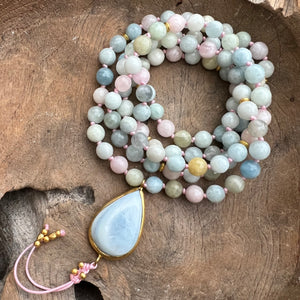 Morganite and Amazonite Mala with Chalcedony Guru Bead
Blue Lace Agate, or Chalcedony, will boost your ability to communicate, especially the thoughts and feelings that you receive from your higher self. This is a soothing and nurturing stone, that will bring you calmness and peace of mind.
Morganite is the stone of kindness and compassion. It reminds you to always be kind and calm, even in moments of chaos, no matter whether it's towards yourself or others. 
All malas are made with 8mm beads, unless otherwise specified. 
Designed and hand-knotted by Rana Nader. Vegan thread, all-natural stones and lead-free spacers are used to create these original Malas that are unique to Rana Nader Yoga Jewelry.