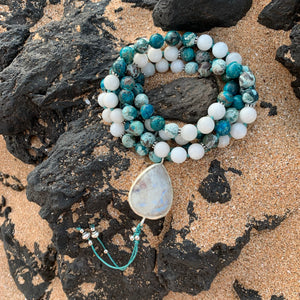 Moonstone and Ocean Jasper Mala with Moonstone Guru Bead
Moonstone aids in inner growth and consciousness, and strengthens intuition and stabilizes emotions. It is known as a stone for new beginnings, success and abundance.
Ocean Jasper has a deep connection to the ocean, and is known for being a nurturing and protective stone. Ocean Jasper brings comfort by alleviating fear, stress and anxiety.
Designed and hand-knotted by Rana Nader. Vegan thread, all-natural stones and lead-free spacers are used to create this original Mala that is unique to Rana Nader Yoga Jewelry.