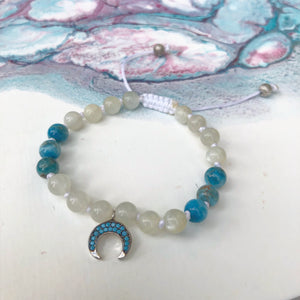 Moonstone & Blue Apatite Adjustable Beaded Bracelet with Turquoise Crescent Moon
Moonstone aids in inner growth and consciousness, and strengthens intuition and stabilizes emotions. It is known as a stone for new beginnings, success and abundance.
Apatite is the stone of clarity and decision-making. It helps you use your heart to choose between right and wrong.
The Turquoise sterling silver crescent moon symbolizes growth and creativity.
Available in both adult and children's sizes.
This beaded bracelet is adjustable.
Designed and hand-knotted by Rana Nader. Vegan thread, all-natural stones and lead-free spacers are used to create this original beaded bracelet that is unique to Rana Nader Yoga Jewelry.