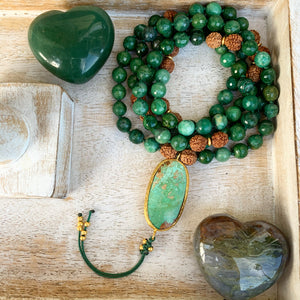 Verdite and Rudrakhsha Mala with Persian Turquoise Guru Bead
Verdite brings consistency, stability, and fortitude.
Rudraksha Beads are associated with the Hindu deity Lord Shiva and are commonly worn for protection.
Persian Turquoise is one of the rarest and most precious types of Turquoise, and it helps with protection from other people's negative energy in your life.
Designed and hand-knotted by Rana Nader. Vegan thread, all-natural stones and lead-free spacers are used to create these original Malas that are unique to Rana Nader Yoga Jewelry.