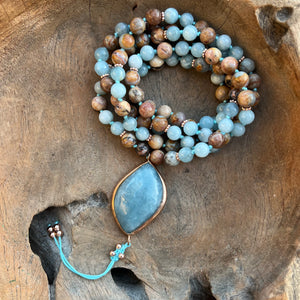 Venus Jasper & Aquamarine Mala with Aquamarine Guru Bead
Venus Jasper is named after the planet Venus, which was named for the Roman goddess of love and beauty. Venus Jasper the Supreme Nurturer.
Aquamarine the strongest crystal of health and healing also can invoke tolerance of others and overcomes judgmentalism, giving support to those overwhelmed by responsibility.
Designed and hand-knotted by Rana Nader. Vegan thread, all-natural stones and lead-free spacers are used to create this original Mala that is unique to Rana Nader Yoga Jewelry.