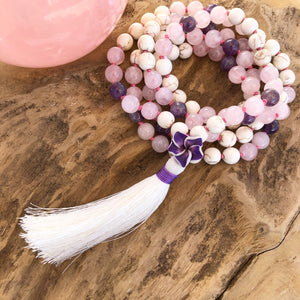 Rose Quartz, White Turquoise & Amethyst Mala with Plumeria Guru Bead
Rose Quartz is the stone of inviting more love, though it's not just romantic love that Rose Quartz embodies. It facilitates love entering your life by bringing your consciousness to a higher level.
White Turquoise is for permitting love, completeness and communication to flow through the entire being and increase spiritual bonding.
Amethyst is the crystal of joy and happiness. It clears your third eye center from negativity and helps you to see yourself in a positive place in life, which will help you to be more joyful and happy.
Plumeria Guru Bead:
Hawaiian Culture - In Hawaiian culture, the plumeria symbolizes positivity and is used in leis or to celebrate special occasions. When worn in the hair, the plumeria flower symbolizes the relationship status of the wearer. A flower over the right ear means she is available, while one over the left means she is taken.
Hindu Culture - Plumeria represents dedication and devotion in the Hindu culture.
Buddhism - In the Buddhist religion, the plumeria symbolizes immortality, probably because the tree will produce new blooms even after it is uprooted. In Laos, the plumeria tree is considered sacred – so sacred that they are planted outside every Buddhist temple. These trees live for hundreds of years.
Designed and hand-knotted by Rana Nader. Vegan thread, all-natural stones and lead-free spacers are used to create this original Mala that is unique to Rana Nader Yoga Jewelry.