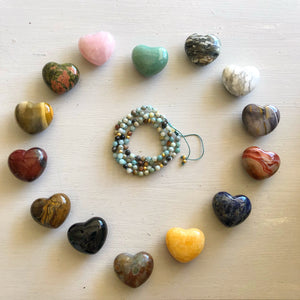 Raw Amazonite Adjustable Mala
Raw Amazonite is used for emotional balance. It's also the color of the ocean and the sand, which creates a great feeling of calmness.
This is an adjustable mala, and can be worn either as a necklace or as a bracelet, and is designed to fit both men's and women's wrist sizes perfectly.
Designed and hand-knotted by Rana Nader. Vegan thread, all-natural stones and lead-free spacers are used to create this original Mala that is unique to Rana Nader Yoga Jewelry.