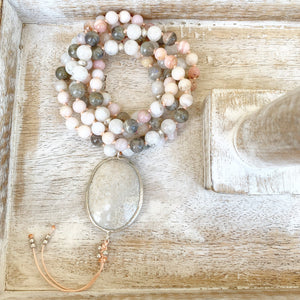 Pink Opal, Moonstone & Labradorite Mala with Star Jasper Guru Bead
Pink Opal helps you to let go of fear and doubt and bring peace within.
Labradorite is a gemstone of magic, and helps those seeking knowledge and guidance to find answers. It is excellent for awakening your life's purpose. Labradorite is a powerful crystal to help you go through change with ease and comfort.
Moonstone aids in inner growth, consciousness strengthens intuition and stabilizes emotions. It is known as a stone for new beginnings, success and abundance.
Star Jasper, or Fossil, connects you with Mother Earth, and helps you ground down and feel connected.
Designed and hand-knotted by Rana Nader. Vegan thread, all-natural stones and lead-free spacers are used to create this original Mala that is unique to Rana Nader Yoga Jewelry.