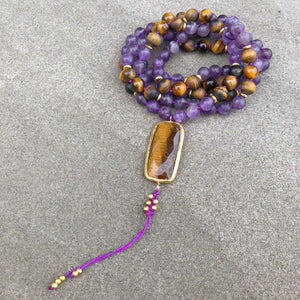 Amethyst & Tiger's Eye Mala with Tiger's Eye Guru Bead
Amethyst is the crystal of joy and happiness. It clears your third eye center from negativity and helps you to see yourself in a positive place in life, which will help you to be more joyful and happy.
Tiger's Eye is a stone that can give you courage, strength of mind, and self-confidence to tackle anything that will come your way. It will help you accomplish your goals because your focus and creativity will be greatly enhanced.
Designed and hand-knotted by Rana Nader. Vegan thread, all-natural stones and lead-free spacers are used to create this original Mala that is unique to Rana Nader Yoga Jewelry.