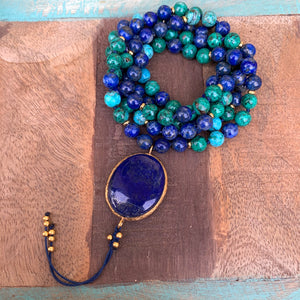 Lapis Lazuli and Chrysocolla Mala with Lapis Lazuli Guru Bead
Chrysocolla is   with the heart chakra, and is used to expand the capacity of your heart to receive more love when you least expect it. 
Lapis Lazuli is for speaking with courage and kindness.
Designed and hand-knotted by Rana Nader. Vegan thread, all-natural stones and lead-free spacers are used to create this original Mala that is unique to Rana Nader Yoga Jewelry.