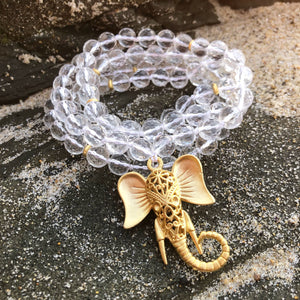 Clear Quartz Mala with Ganesha Guru Bead
Clear Quartz opens your crown chakra and helps you to be more connected with other energies. It allows you to activate self-consciousness and to think beyond just a physical body.
Lord Ganesha is the symbol of removing the obstacles from your way.
Designed and hand-knotted by Rana Nader. Vegan thread, all-natural stones and lead-free spacers are used to create this original Mala that is unique to Rana Nader Yoga Jewelry.