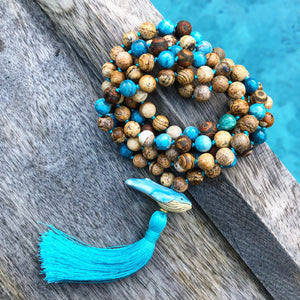 Apatite, Picture Jasper & Tibetan Agate Mala with Whale Guru Bead
Apatite is the stone of clarity and decision-making. It helps you use your heart to choose between right and wrong.
Picture Jasper helps you activate your center of creativity by connecting you to Mother Earth and nature. 
Tibetan Agate is for deepening your meditation.
The whale is a symbol of family and strong relationships and supporting the ones you care for.
Designed and hand-knotted by Rana Nader. Vegan thread, all-natural stones and lead-free spacers are used to create this original Mala that is unique to Rana Nader Yoga Jewelry.