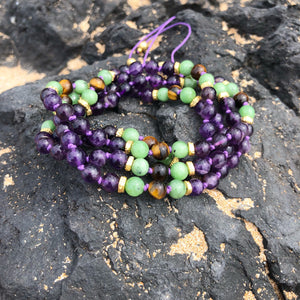 Amethyst, Jade & Tiger's Eye Adjustable Mala 6mm
Amethyst is the crystal of joy and happiness. It clears your third eye center from negativity and helps you to see yourself in a positive place in life, which will help you to be more joyful and happy.
Jade is a magical stone that helps make the impossible possible by putting your heart in what you do. It also brings good fortune. In Chinese culture, when Jade is used with red thread, it brings good fortune.
Tiger's Eye is a stone that can give you courage, strength of mind, and self-confidence to tackle anything that will come your way. It will help you accomplish your goals because your focus and creativity will be greatly enhanced.
This is an adjustable mala made with 6mm beads, and can be worn either as a necklace or as a bracelet, and is designed to fit both men's and women's wrist sizes perfectly.
Designed and hand-knotted by Rana Nader. Vegan thread, all-natural stones and lead-free spacers are used to create this original Mala that is unique to Rana Nader Yoga Jewelry.