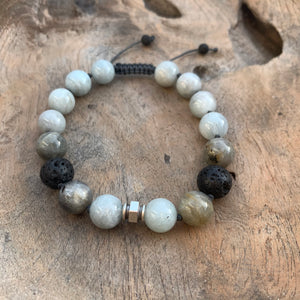 Lava & Labradorite and Aquamarine Adjustable Beaded Bracelet
Lava is a stone that is formed when air, water, fire and earth meet. That's why it's a very earthy stone that brings grounding to the root chakra.
Labradorite is a gemstone of magic, and helps those seeking knowledge and guidance to find answers. It is excellent for awakening your life's purpose. Labradorite is a powerful crystal to help you go through change with ease and comfort.
Aquamarine is the strongest crystal of health and healing. It can also can invoke tolerance of others and help overcome judgmentalism, as well as give support to those overwhelmed by responsibility.
Available in his or hers options. 
This beaded bracelet is adjustable, the beads are 10mm.
Designed and hand-knotted by Rana Nader. Vegan thread, all-natural stones and lead-free spacers are used to create these original beaded bracelets that are unique to Rana Nader Yoga Jewelry.