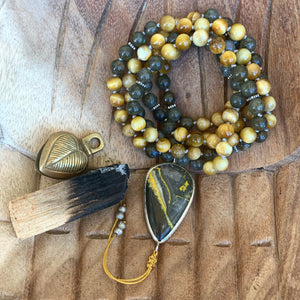 Golden Tiger's Eye and Labradorite One of a Kind Mala with Bumble Bee Jasper Guru Bead
Golden Tiger's is a powerful stone for increasing self-understanding and self-respect. It is grounding during chaotic situations and brings issues into perspective.
Labradorite is a gemstone of magic, and helps those seeking knowledge and guidance to find answers. It is excellent for awakening your life's purpose. Labradorite is a powerful crystal to help you go through change with ease and comfort.
Bumble Bee Jasper activates the Sacral and Solar Plexus chakras, enabling you to accept change, find new opportunities, increase your self-esteem, and make decisions without relying on emotions.
Designed and hand-knotted by Rana Nader. Vegan thread, all-natural stones and lead-free spacers are used to create this original Mala that is unique to Rana Nader Yoga Jewelry.