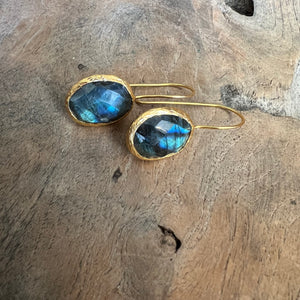 Labradorite Earrings in Gold
Labradorite is a gemstone of magic, and helps those seeking knowledge and guidance to find answers. It is excellent for awakening your life's purpose. Labradorite is a powerful crystal to help you go through change with ease and comfort.
The base metal used in these earrings is brass and they've been plated in rose gold.
Handmade by Rana Nader Yoga Jewelry.