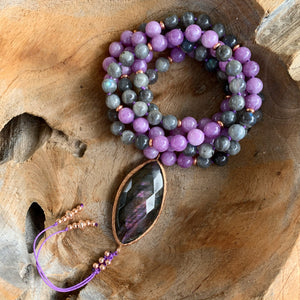 Labradorite and Lepidolite Mala with Labradorite Guru Bead
Labradorite is a gemstone of magic, and helps those seeking knowledge and guidance to find answers. It is excellent for awakening your life's purpose. Labradorite is a powerful crystal to help you go through change with ease and comfort.
Lepidolite is the stone of transition from grief and extreme pain in your heart to more joy and happiness, and helps you to release trauma.
All malas are made with 8mm beads, unless otherwise specified. 
Designed and hand-knotted by Rana Nader. Vegan thread, all-natural stones and lead-free spacers are used to create these original Malas that are unique to Rana Nader Yoga Jewelry.