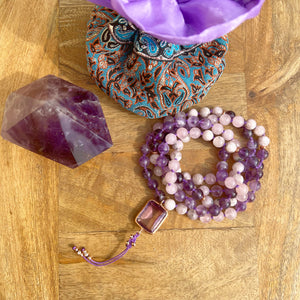 Kunzite, Purple Jade, Purple Rose Quartz & Amethyst Mala with Amethyst Guru Bead
Rose Quartz is the stone of inviting more love, though it's not just romantic love that Rose Quartz embodies. It facilitates love entering your life by bringing your consciousness to a higher level.
Amethyst is the crystal of joy and happiness. It clears your third eye center from negativity and helps you to see yourself in a positive place in life, which will help you to be more joyful and happy.
Kunzite is a stone that has the power to connect intellect, intuition and inspiration. It connects the heart to the mind.
Purple Jade is a stone of happiness, joy, and humor. It aids us in achieving acceptance of the Divine order and the grounding knowledge that all is as it should be. It helps us release self-limiting beliefs, along with other self-imposed limitations, and opens us up to the natural and effortless abundance the Universe provides.
Designed and hand-knotted by Rana Nader. Vegan thread, all-natural stones and lead-free spacers are used to create this original Mala that is unique to Rana Nader Yoga Jewelry.