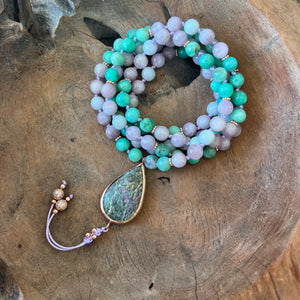 Kunzite & Chrysoprase and Burma Jade Mala with Ruby Fuchsite Guru Bead
Ruby Fuchsite is a stone of balanced self-love and strength. Some of its main benefits include the fact that it brings courage, strength, peace, and positive vibes. Also, Ruby Fuchsite removes negative thoughts and cleansing our lives from lingering emotional baggage.
Kunzite is a stone that has the power to connect intellect, intuition and inspiration. It connects the heart to the mind.
Chrysoprase is the stone of letting go of the anger that can cause depression, and helps make room for new love and joy.
Burma Jadeite Stimulating its owner's independence. it is a gemstone for you to think and act by yourself, it would prevent you from getting controlled by false information and direction. it's also filled with positive energy and it attracts luck.

Designed and hand-knotted by Rana Nader. Vegan thread, all-natural stones and lead-free spacers are used to create these original Malas that are unique to Rana Nader Yoga Jewelry