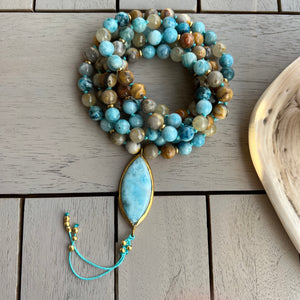 Hemimorphite, Crazy Lace Agate and Rutilated Quartz Mala with Larimar Guru Bead
Crazy Lace Agate is the Stone of Laughter. It is also called Happy Lace Agate because it is believed to absorb negative feelings and to bring Happiness. It promotes positive thinking and uplifts self-esteem feelings. Crazy Lace Agate is also believed to be a stone which brings good luck and helps overcome obstacles.
Hemimorphite is a stone of light activation; blends sorrow & joy into compassion & empathy for others; transforms grief into joy through letting emotions flow; facilitated letting go of resistance.
Rutilated Quartz can give you the power to get through any difficulties that are related to your creativity and career.

Larimar is where the energies from the sea and sky meet, and where you find your freedom, where there's no limit. Its soft, soothing blues and calming turquoise colors are streaked with white patterns that resemble sunlight dancing beneath Caribbean waters. It brings the healing power of dolphins to harmonize the body and soul.

Designed and hand-knotted by Rana Nader. Vegan thread, all-natural stones and lead-free spacers are used to create this original Mala that is unique to Rana Nader Yoga Jewelry.