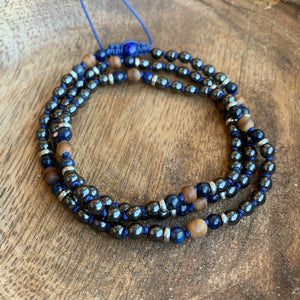 Hematite, Lapis Lazuli and Agarwood Adjustable Mala
Agarwood is a special wood from Indonesia that has a very calming and relaxing scent. After wearing it against your skin for a while, you can tell by the strength of the scent if you're relaxed or anxious. It also smells differently on different people's bodies.
Lapis Lazuli is for speaking with courage and kindness.  
Hematite helps clean and clear you from carrying other people's energy. A perfect crystal for people in touch with others for their work.
This is an adjustable mala using 4mm beads, and can be worn either as a necklace or as a bracelet, and is designed to fit both men's and women's wrist sizes perfectly.
Designed and hand-knotted by Rana Nader. Vegan thread, all-natural stones and lead-free spacers are used to create this original Mala that is unique to Rana Nader Yoga Jewelry.